💫 Golden Opportunity Online Short Term Traning Program !!
✨ 5 Days STTP For Faculties/students✨
Hello Everyone💫
Warm Greetings from Samarth Group of Institutions College of Engineering, Polytechnic, Belhe.
✅ JAVA Programming
✅ Expert: P. N. Shingote
Saumitra Kahate
Mrs. Medha
🗓 Date: From 31 July
🕰 Time: 11:00AM 🕚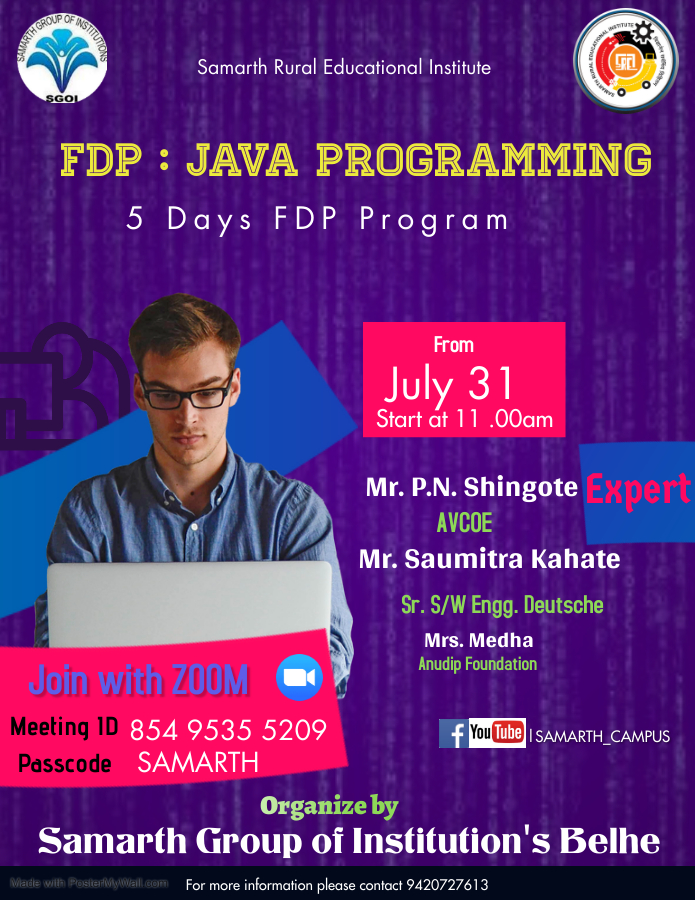 Join Zoom Meeting
https://us02web.zoom.us/j/85495355209?pwd=ZDN1dEJhbUQvNXZ3WmVNQkMyNTQrQT09
Meeting ID: 854 9535 5209
Passcode: SAMARTH
✅ Samarth Campus Facebook Page:- https://www.facebook.com/Samarth_campus-100767084980941
✅ Samarth Campus YouTube channel :- https://www.youtube.com/c/SAMARTHCAMPUS
✅ Join Whatsapp Group : https://chat.whatsapp.com/DMFP1O9ozhJ9Yl51hluDbZ
Regards,
Prof Bhushan Borhade
Hod-Comp
Prof. P. S. Gadekar
Adm. Officer
Dr. A. J. Patil
Principal
SGOI-COE, Belhe.
#StayHome🏘#StaySafe