Hello Everyone💫
Warm Greetings from Department of Computer Engineering,Samarth Group of Institutions College of Engineering, Belhe.
👉*Practices with IOT*
✨ Who can Attend the Seminar:
Diploma, Engineering, BCS, MCS,MCA, Computer stream students
✅ Topic :-Practices with IOT
✅Expert: Mr.Umakant D.Butkar
(VB solution,Pune/Nasik)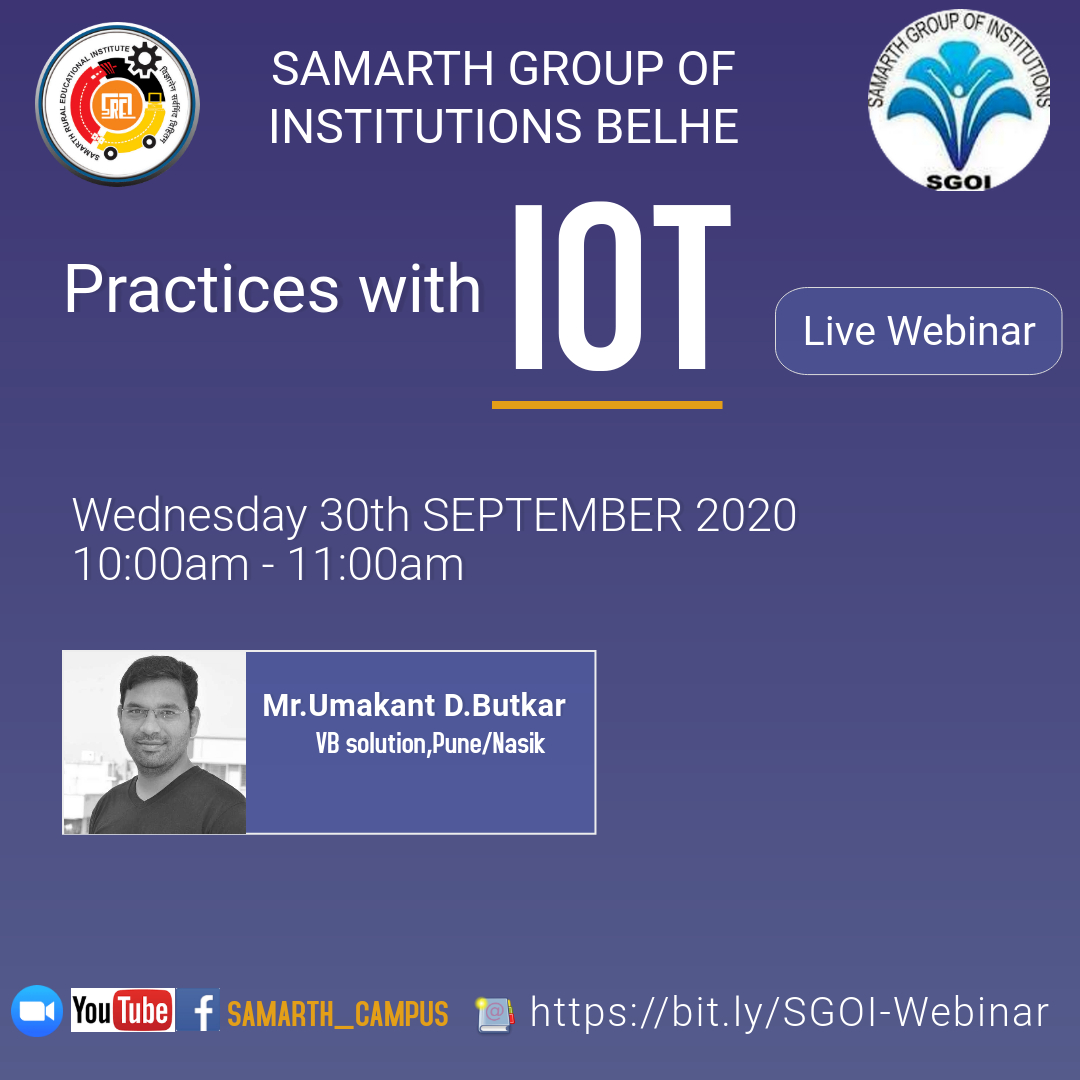 🗓 Date:30/09/2020
🕰 Time: 10AM
✅ Samarth Campus Facebook Page:- https://www.facebook.com/Samarth_campus-100767084980941
✅Samarth Campus YouTube channel :- https://www.youtube.com/channel/UC6-mmCH9FmyAa8uwkC3ERjA
✅ Link for registration:👉🏻 https://bit.ly/SGOI-Webinar
✅Join WhatsApp Group after Registration:👉🏻https://chat.whatsapp.com/DrsAmsf8fYTGzIA2hqTm9v
🏅E-Certificates will be generated only on submitting feedback forms
📞For any Queries:
Mr. S.N. Shingote- 9096495486
*Mr. Yogesh Shinde – 9975606528*
Thank you,
*Mr. B. M. Borahade*
*Mr. Mahesh Pokharkar*
HOD,Comp. Dept.
*Mr. P. S. Gadekar*
Admin Officer
SGOI-COE, Belhe.
*#StayHome🏘#StaySafe*